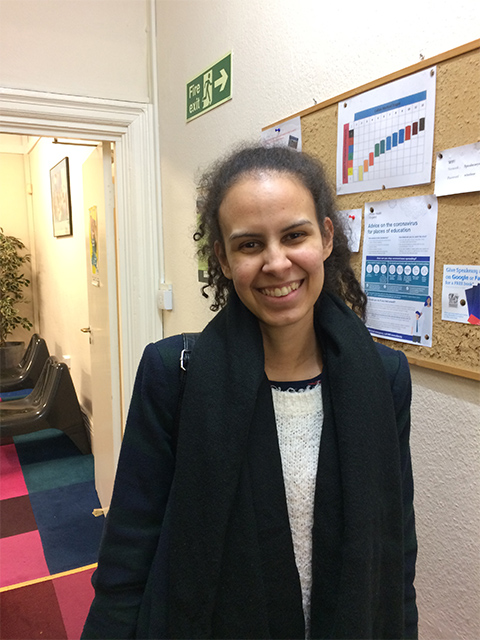 Lethicia Julio De Oliveira Ferreira studied with us for over 1 year
Posted by

Categories

News

Date

November 4, 2020
Our student, Lethicia Julio De Oliveira Ferreira, has recently finished studying with us. She attended one of our part-time afternoon courses. Before she left, we asked her to tell us about her experience of studying at Speakeasy School.
This is what she had to say:
I decided to come to London because I have family here, so it was easy for me to have somewhere to stay. I also liked the British accent. My uncle and aunt had a friend, who studied at Speakeasy School, so they told me about it. I enjoyed everything about the Callan Method. It helped me practice my oral English, rather than writing and helped me forget about the shame to speak English. When I came to London I expected to learn English, but Speakeasy School taught me more than I expected. Now I can understand situations that I didn't think I could. I would like to thanks you for everything, for every day at school, for the best teachers in England, for the lovely school place, for always be kind, gentle and helpful for me, and for the most important, taught me an excellent English with quality and respect. Michael, thanks for always put a smile on my face in your lessons, and for all real life examples that help me so much, Miss Corin, thanks for always be kind and believe in my progress. Lisa, thanks for helping me to increase my vocabulary and always answering my question with a smile. Rose and Ali, thanks for always be kind with me and full of good energy, and Anthony, thanks for adding a different English accent that makes me training my listening. I will always recommend the school to everybody.
Dearest Lethicia, we will miss you! Thank you for being such a fabulous student. Your dedication to learning has been exemplary and your positive attitude towards life has inspired us all. We wish you the best of luck with your future studies at University and please keep in touch with us.